Abacab Dorking Taxis owner Eddie Murphy, a veteran of 12 years who has a personal interest, is proud to partner with Combat Stress as our official charity for 2017/18. We will be supporting Combat Stress through a range of fundraising initiatives and activities.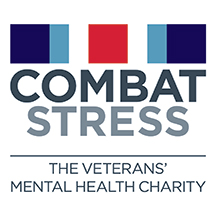 About Combat Stress
Founded 95 years ago, Combat Stress is the UK's leading military charity specialising in the care of Veterans' mental health. Since 1919, Combat Stress has supported over 100,000 ex-Service men and women suffering from debilitating mental health attributed to time spent in service. Currently Combat Stress supports over 5,000 Veterans in the UK.
They provide prompt clinical care and support to Veterans with psychological injuries including depression, anxiety and Post Traumatic Stress Disorder (PTSD). Clinical care is provided at both residential treatment centres and in the community through Community Outreach teams. Residential treatment is available at a number of centres throughout the UK, including Leatherhead, Surrey.